Dominique Ollinger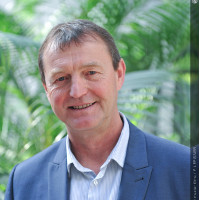 Regional Political Affairs. Previously Head of R&T customer services
AIRBUS
With a 30 years career in aeronautics spent in Aerospatiale and Airbus, Dominique Ollinger has a long track record in engineering, research, customer services and business development.
Born in 1958 Dominique Ollinger is graduated from french engineering school Ecole des mines de Douai, ENSEEIHT and DEA automatique
He started his career in steel industry as an engineer in charge of development of automation processes. Further on he participated to the automation of the engine factory at BMW in Austria
He joined Aerospatiale to become head of project for the brake and steering control unit of the A320. Further on he was in charge of the production factory of the computers.
Detached at the European Commission he coordinates R&T projects for 3 years
Back from Brussels he became chairman of the task force Clean Sky that developed and implemented the larger ever R&T aeronautics project earmarked 1.6 B€
For more than 5 years he was head of R&T for Airbus customer services
Recently he was appointed in the team regional political affairs