Laurent Manach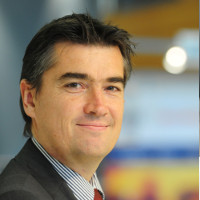 CEO
Pôle EMC2 Nantes
n 1991, graduate of the ENS for armament technologies, Laurent MANACH began his career as responsible for telecommunication studies in the V/UHF range for the surface ships of the French Navy at the DCN. After a couple of years marked by important international projects to ensure interoperability between allied Navies, he chose to put his expertise at the service of the local economic development and incorporated, in 1995, the Delegation to the management of territory and to the regional action (DATAR). He then developed projects devoted to the enhancement of the innovation and the technologies through crossed development including industries and public laboratories based both on economic clusters theories and the studies on medium to long-term French industry technologies.
From 1999 to 2003, Laurent MANACH joined EDF Group, the energy company, to develop a full range of services to local authorities in France and in Europe to increase attractiveness and development of territories.
In 2003, he was appointed Head of the EDF Japan office in Tokyo, and developed relationships with Japanese energy and nuclear companies; he also contributed as deputy director of the Invest in France Agency to the development of Asian companies operations in France. Thus, he worked with one of the main global automotive companies.
In 2006, back in France, within the International Development Directorate of the DGA (Délégation Générale de l'Armement) he took the head of the Northern Asia office to support and control defence equipments exportations.
Since the early 2009 Laurent MANACH is the CEO of EMC2 a major competitiveness Cluster (Pôle de Compétitivité) located in Nantes, Pays de la Loire. In parallel with this position he became in 2010 the project manager of the application IRT Jules Verne and has brought together and orchestrated the necessary energies to the success of this project. In 2012, he enhanced his involvement by becoming deputy director of the Association of the founding members of the IRT Jules Verne. He is currently the Director of Development of IRT, while remaining Director of EMC2.