Agnès Paillard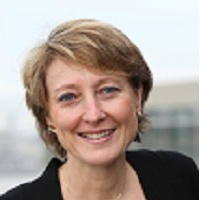 President
AEROSPACE VALLEY
Agnès Paillard was elected president of the innovation competitiveness cluster AEROSPACE VALLEY in September 2011. As member of the research directorate of EADS Group she is in charge for the implementation of collaborative R&D projects addressing inter-subsidiary topics (Airbus, Astrium and Eurocopter).
In her previous position she was Deputy General Director at the Regional Council of Aquitaine Region in charge of the economic development, research and technology transfer where she totally revisited regulation interventions in order to provide significant financial resources to support businesses and research.
Before that she was head of Serma Technologies company, which is a spin-off enterprise of the IBM laboratory for component characterization where she was in charge of the strategy, external acquisitions and business development. During this period she had initiated a business Evaluation Center of the Safety of Information Technology which today is one of the three French CESTI centers.
Graduated from ESPCI school, she began her professional career as a methods engineer at the department for electronic components at IBM Corbeil Essonnes facility, followed by a position where she was in charge of the qualification of the components suppliers.