Thierry Cloutet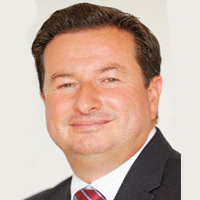 Managing Director
STELIA COMPOSITES
Graduated from the "Ecole Centrale de Nantes", in the AIRBUS Group from more than 20 years, I started my career with the missile M51 industrialization.
After 3 years, I took the opportunity of the development of the ARIANE V launcher to move to KOUROU to take part in the adventure. I stayed for 6 years and a half spending the 3 last years as Head of the integration of the 2 boosters stages.
Upon returning in mainland France, I integrated the SOGERMA Company as Head of maintenance operation workshops and later as Head of different Programs based in several sites: A380 Cockpit in Salaunes until the delivery of the first Series aircraft, ATR in Merignac to manage the ramp up from 26 aircraft to 68 aircraft per year, and all the AIRBUS Aerostructure Programs in Rochefort.
Since July 2014, I am the Managing Director of STELIA COMPOSITES having the ambition to pilot a new growth dynamics in coherence with the Group development.